Silk is a soft and smooth fiber whose many unique qualities have turned this fabric into one of the world's most highly regarded luxury fashion materials. Silk is a lightweight fabric with a one-of-a-kind shimmer and glows it, and it is also natural, hypoallergenic, and environmentally friendly!
One of the most popular garments made from silk fabric is silk pajamas. They are one of the most luxurious and sophisticated types of clothing, not only because of how they look but also because of how they feel. Silk has an elegant and sophisticated look that other fabrics cannot replicate, and the smooth, soft, and weightless feel of silk makes wearing it a remarkably satisfying experience.
Silk pajamas have high-end appeal because of their vibrant colors and patterns, lightweight feel, moisture-wicking properties, breathability, as well as their overwhelming level of comfort.
Putting on a pair of high-quality silk pajamas is refreshing, relaxing, and renewing. In addition, silk pajamas provide you with an unparalleled level of comfort, which allows you to have a deeper, more restful sleep when you finally head off to bed.
But silk pajamas are not just for sleeping! Silk pajamas are considered loungewear in addition to sleepwear because you can wear them during the daytime, evenings, or nighttime, and can wear them around guests as well as in solitude while working from home.
Continue reading below to see a list of the 6 Best Silk Pajamas That Provide You More Comfort!
The 6 Best Men's Silk Pajamas that Provide you More Comfort
1000 Kingdoms – LOST IN IBIZA Men's Blue Silk Pajama Set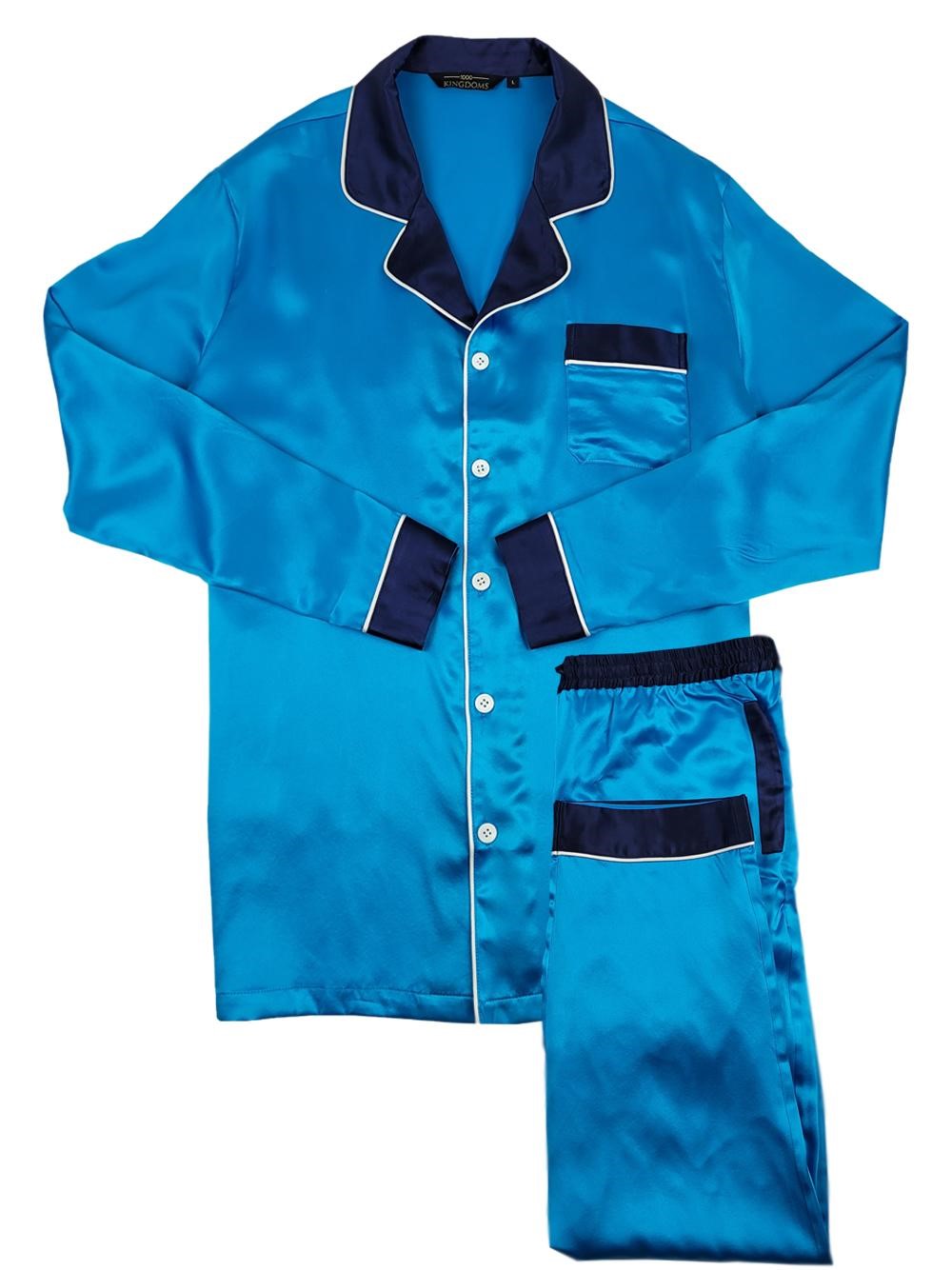 This Men's Blue Silk Pajama Set is as vibrant as comfortable. The aqua blue mulberry silk used to make this pajama set sparkles in the light and will make you feel like you are floating in crystal clear waters while on a tropical vacation.
This silk pajama set by 1000 Kingdoms has navy blue silk accents on the shirt's collar, cuffs, chest pocket, and around the waistband, pockets, and bottom cuffs of the pants.
This pajama set comes with a front button-up shirt with luxurious navy blue silk lining the inside of the front placket. The pants from the pajama set have deep side seam pockets and an elastic waistband with a silk drawstring.
These pajamas are cut with a tapered, modern, and stylish design that doesn't sacrifice the breezy and relaxed fit that silk pajamas are meant to have. This affordable men's mulberry silk pajama set is ultra-comfortable and will ensure that you are able to have the most satisfying sleep possible.
 Derek Rose – Men's Navy Silk Satin Classic Fit Pajamas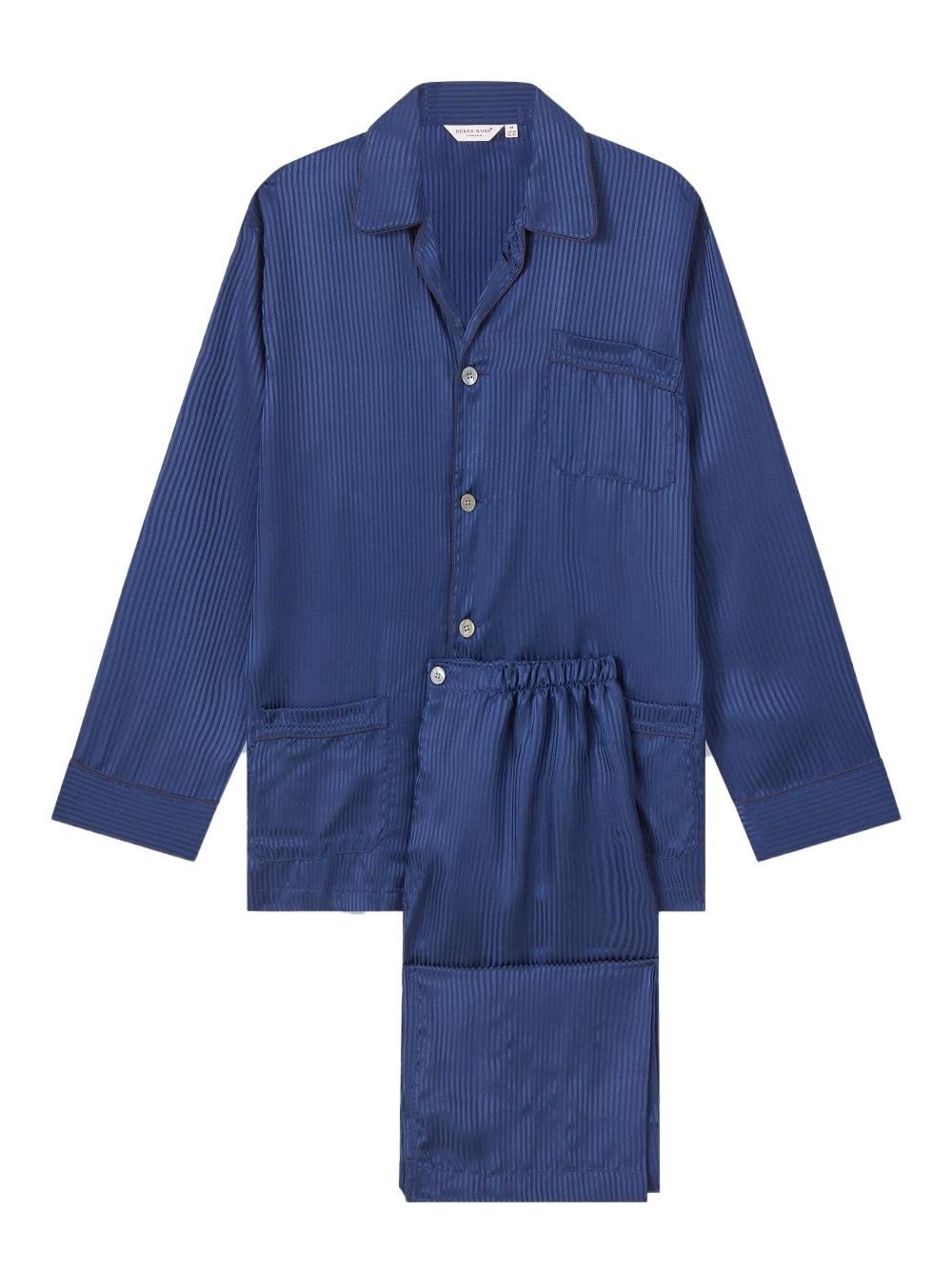 Derek Rose has been making high-quality clothing since 1926 and has steadily grown and evolved over the years as it continued to develop a wider range of products.
These Striped Navy Blue Silk Satin Men's Pajamas from Derek Rose are soft and lightweight, designed with a relaxed fit, perfect for lounging around the house. These pajamas are made from 100% silk that has been woven into a luxurious satin stripe.
The shirt in this pajama set has two side pockets, one chest pocket, a classic collar, and a button-up front placket. The pants come with Derek Rose's unique two-button waistband and elasticated sides to give you maximum comfort around the waist.
This loose-fitting classic pajama set is elegant, sophisticated, and ridiculously comfortable.
Majestic International – Dot Silk Men's Pajamas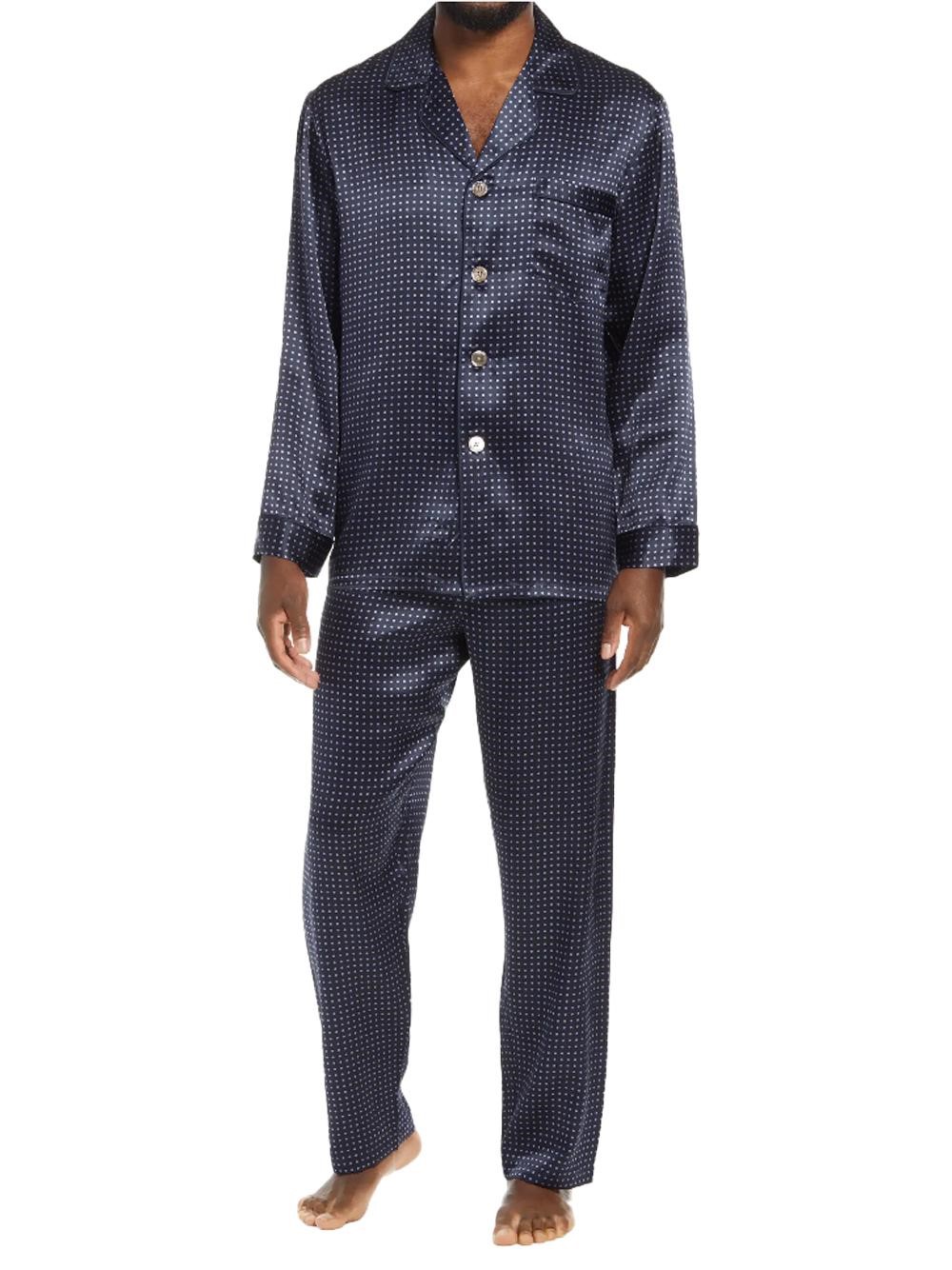 These Dotted Men's Silk Pajamas from Majestic International are a great gift idea for any type of occasion since giving the gift of comfort never goes out of style. Majestic International has been selling sleepwear products since the 1950s and was most famously known for their Terry Robes, which are equally as comfortable as their silk pajamas.
These swank Dot Silk Pajamas are made out of high-quality silk and have a straight cut design on both the back of the shirt and down the legs of the pants. This classic cut allows the pajamas to hang off your body, giving you a very smooth, lightweight, and relaxed feel.
The pajama pants in this set come with a two-button enclosure and an elastic drawstring waistband, while the shirt has a classic collar, chest pocket, and four large iridescent buttons down the front placket.
SlipIntoSoft – Men's Short Pajama Set Red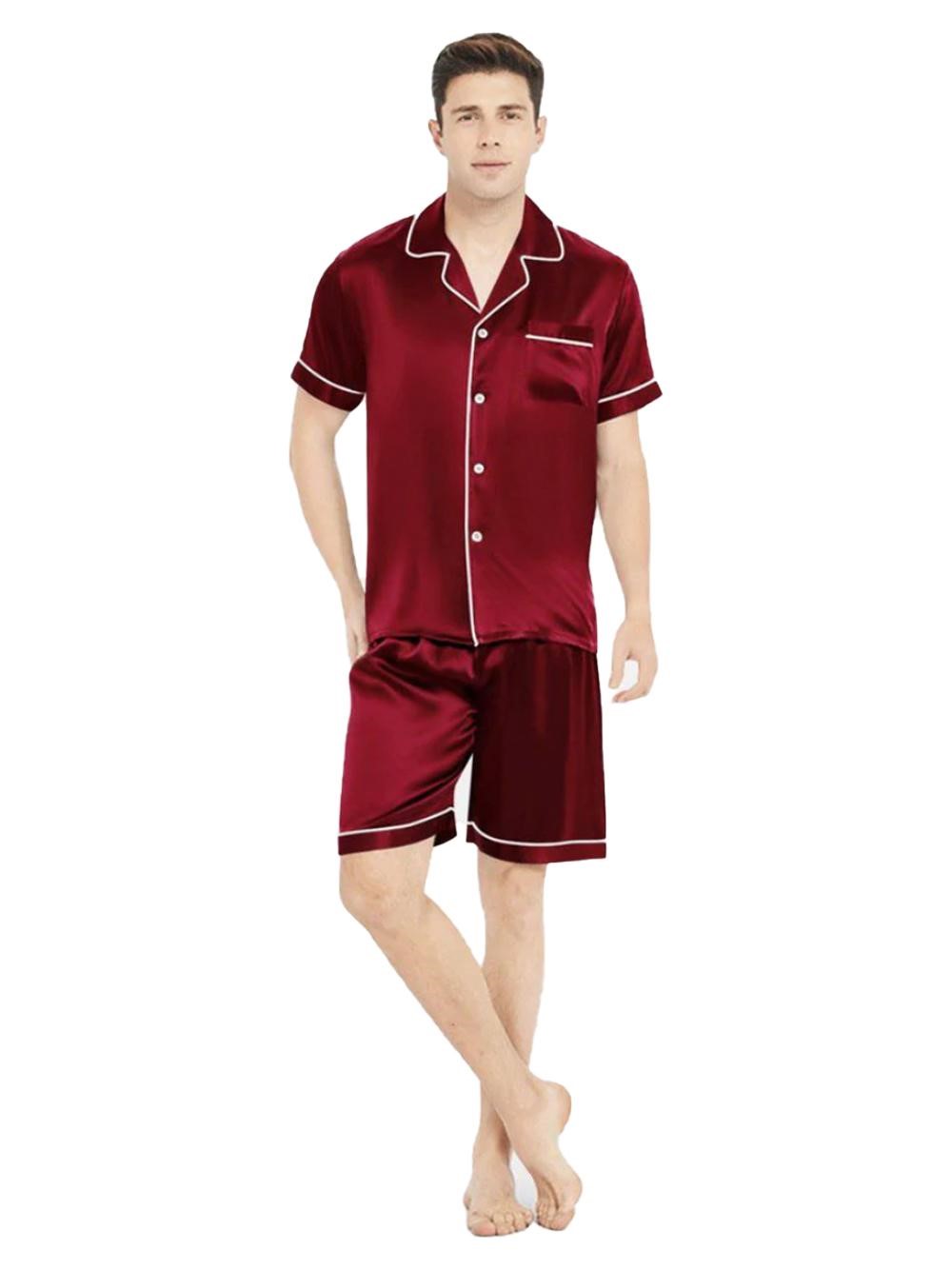 This Men's Red Short Pajama Set from SlipIntoSoft is the perfect outfit for those relaxed summer nights at home or on vacation. These pajamas are made from super comfortable mulberry silk and come in 5 colors; black, dark green, dark grey, navy blue, and red.
This red short pajama set comes with contrasting white piping, making you feel like you are at a 5-star hotel or a luxurious spa. The best way to achieve peak relaxation after a long day has ended is to put on a pair of these short silk pajamas by SlipIntoSoft.
These glossy red silk pajamas are the perfect outfit for any occasion, but they are especially suitable for Christmas or Valentine's Day holidays. The shirt on this pajama set comes with a chest pocket, while the pants have an elastic waistband and two side pockets.
Lahgo – Men's Washable Silk Pajamas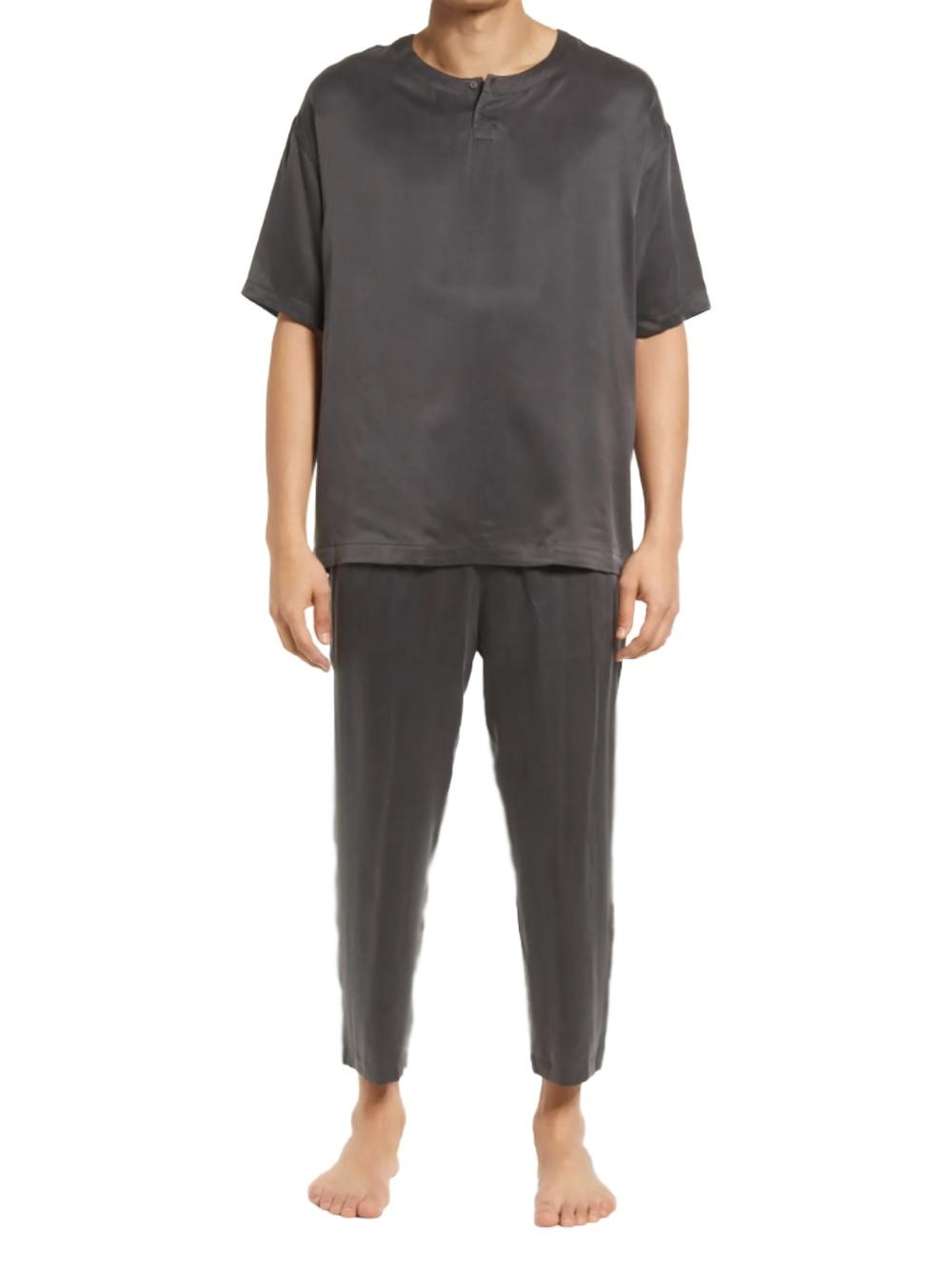 Lahgo makes these Washable Men's Silk Pajamas with a comfortable pull-over short sleeve top and elastic drawstring waistband pants. This comfortable silk pajama set will to give you a zen feeling as you lounge around the house and is the type of pajama set you wear while you are settling into the weekend, drinking smokey liquor, and watching Netflix with your phone turned off.
The pajama top in this set has a classic button-up crew neck and spacious short sleeves that will allow you to feel comfortable no matter the season or temperature. The pants have a modern, tapered cut and a high-quality elastic waistband with a silk drawstring.
Lahgo's silk pajama set is machine washable, which means you can easily wash this set at home, as long as you have a mesh washing bag, silk detergent, and a good washing machine.
Casablanca – Men's Ping Pong Print Silk Pajama Set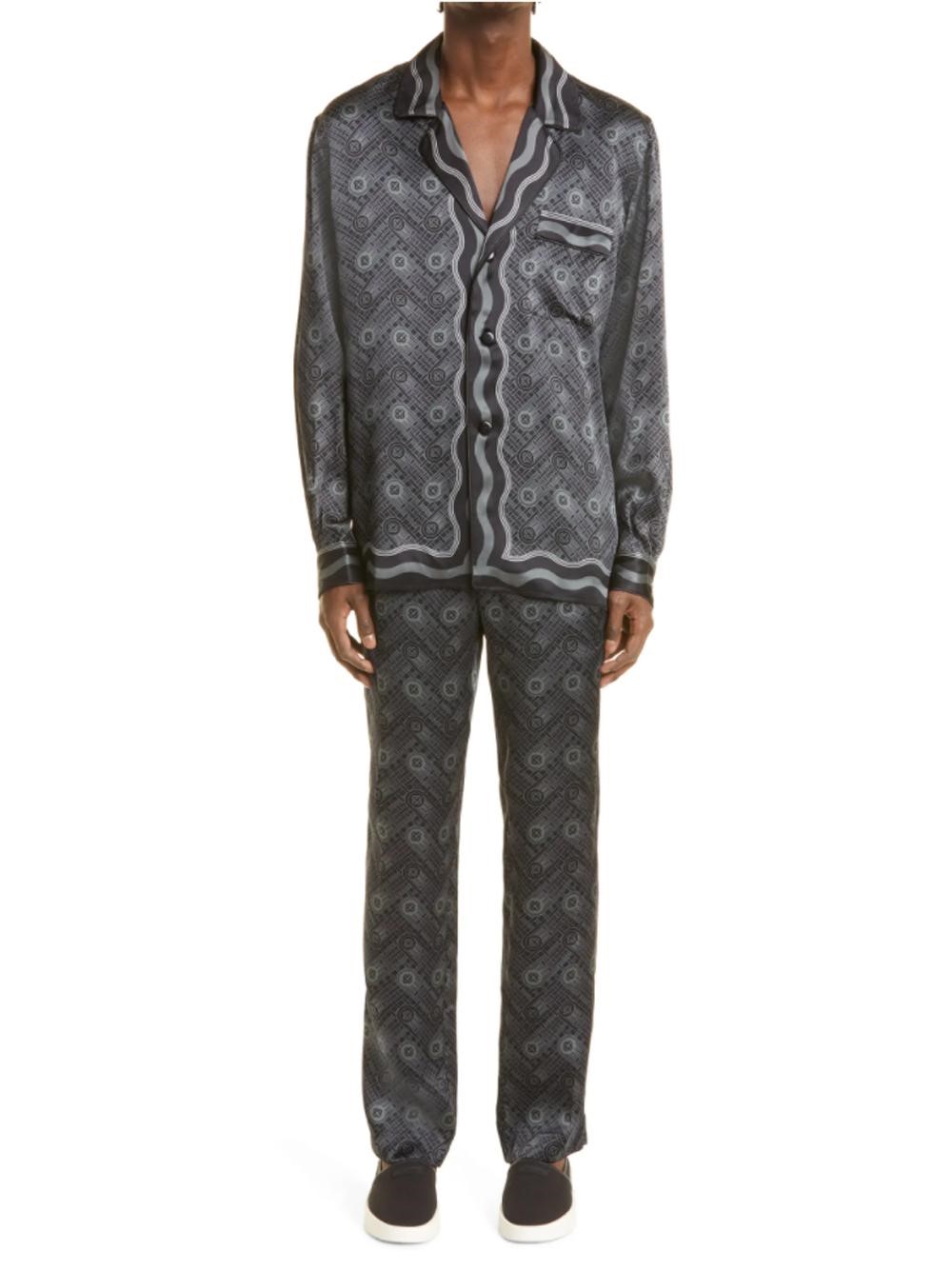 This super luxurious Men's Silk Pajama Set from Casablanca has a stunning "Ping Pong Print" design throughout the entire outfit, giving you the highest levels of both style and comfort.
This Made in Italy leisurewear set is opulent and alluring and is fashionable enough to be worn not only at night time but also throughout the day.
The silk shirt in this set comes with a notched collar, front button closure, long sleeves, and a patch pocket on the chest. The pants have an elastic waist with button closure, two side seam pockets, and a back pocket.
Casablanca has designed this pajama set to be a "sunshine to slumber" type of outfit so that you can remain cool and comfortable all day long.
Note that these pajamas are designed as a set. However, the top and bottom are actually sold separately.
For more latest fashion news, please stay connected with us.