No Indian woman can deny the fact that Kurti is the most stylish and comfortable ethnic outfit a woman can ever have. They are breathable, flowy, easy to handle, and look great on any woman. All Indian women of different ages and body shapes can easily find the ideal Kurti for them as they are suitable for everyone.
Although much ethnic and other women's wear has entered the fashion industry, a few outfits have never gone out of style. Kurtis is one of those evergreen dresses that never get old. Kurtis is exceptionally stylish and can be styled in various ways. The pattern and design of the Kurti change with time. Kurtis has become more stylish these days, and you can also wear them as western outfits.
However, choosing the right Kurtis patterns is not that easy. Hence, we have come up with a list of Kurti patterns that you must try to set a new trend and style in the world of fashion. Let's take a look at them.
Kurtis Pattern- You Must Know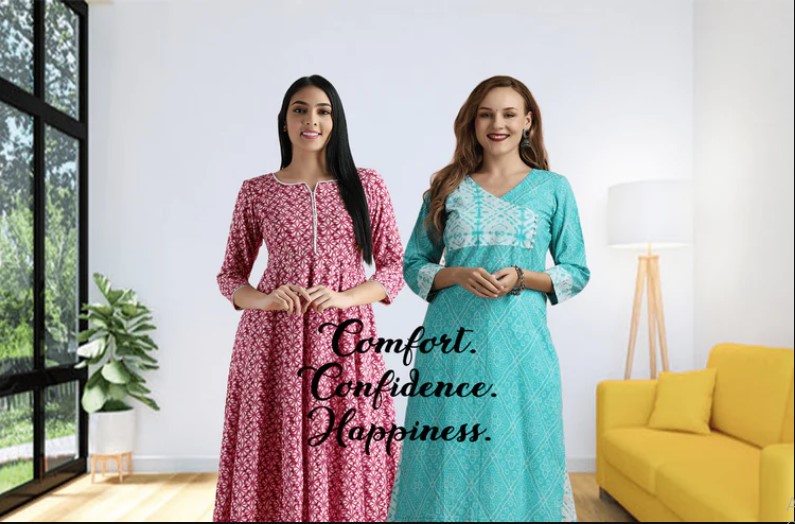 Kurtis is suitable to wear for any party, a special event like a date with your dear one, outing with friends, meeting, wedding and special festival even office and college. Many types of kurti patterns are available in different colors, designs and fabrics for different occasions. You have to choose the kurti pattern according to your age and body type.
If you are unable to find suitable Kurtis patterns for you, check out the list of the latest Kurtis patterns given below and choose the right one.
LONG STRAIGHT KURTIS
Long straight Kurtis are extremely famous Kurtis and are widely worn on various special occasions. Long straight kurtis are very elegant and graceful and can be worn as daily wear, office wear, casual wear, formal wear and party wear.
Lots of Long Straight Kurtis are available in the offline and online market in different colors, fabrics, designs, and price ranges. It goes with any bottom wear like salwars, churidar, leggings, palazzos, shararas, and skirts. Wear plain or designer long straight kurti with contrasting or matching bottoms to get a graceful and elegant look.
DIGITALLY PRINTED KURTIS
Digital printed kurtis are one of the stylish kurtis designs that are becoming the latest trend in recent years. A Digital printed kurti will make you look cool and fashionable.
With beautiful and innovative floral or animal design, asymmetric designs made these Kurti designs amazing and different. The amazing color combination is the most attractive part of the digital printed kurtis which will enhance the beauty of every woman. If you are a fashion lover then you must opt ​​for this latest kurtis design to get a unique and stunning look.
RAYON KURTIS
The latest collection of rayon kurtis is considered to be one of the most stylish kurtis designs that every woman loves to wear on various occasions. Thanks to the airy silk fabric, this garment is extremely comfortable, so it can be easily worn in the hot summer and get maximum comfort. These kurtis can be paired with salwars, churidars, shararas, palazzos, straight pants, leggings and so on. Rayon kurtis are available in various beautiful motifs, patterns and colors that will make you look adorable.
ANARKALI KURTIS
Anarkali kurtis are the most ideal choice you can make as they are the most stylish and delicate kurtis designs with various innovative patterns, vibrant colors and light fabrics. They have become the most popular choice among Indian women for the combination of modern and ethnic vibes. Anarkali kurtis can be easily worn for several occasions or festivals. Get an elegant and fashionable look by wearing these stylish kurti designs.
INDO-WESTERN KURTIS
In this universe of combination, how can there not be a mix of Indian and western styles in a kurti? Various neck and sleeve designs and a modern twist with a traditional vibe make these kurtis designs more attractive and unique. These trendy Kurtis can be worn with shorts, pants, leggings, jeans, stockings and many more.
You can also wear a coat with this outfit to look more stylish. This stylish kurti pattern can also be accessorized with various accessories like chokers, chokers, junk jewelry, earrings, bangles, watches, belts, sunglasses, wallets, straps, different shades of bangles and so on. To complete the look, one can wear boots, peep toes, comfortable shoes and some other footwear. Indo-western kurtis are suitable to wear for several occasions like day trips, dates, meetings, parties and present occasions.
EMBROIDERED KURTIS
Embroidered Kurtis are known for their mesmerizing embroidery and trendy look. No other ethnic wear can beat the brilliance of embroidered kurtis. You can wear these gorgeous kurtis designs on any special occasion and festival to look glamorous and grab everyone's attention. Anarkali Kurtis, Angarkha Kurtis, Cotton Kurtis and many more are different styles of embroidery Kurtis.
These trendy Kurtis designs are available in different types like Chikankari, Resham embroidery, Dori embroidery and so on. You can pair these Kurtis with beautiful salwars, churidars, shararas, palazzos, straight pants and so on to get an adorable and gorgeous look.
LONG KURTIS
The demand for long Kurtis has become very widespread in recent years. These are the most charming and famous kurti patterns that offer you a traditional and beautiful look. These kurtis patterns go best with skinny jeans, palazzo, salwar, churidar, dhoti pants, straight pants and so on. Ethnic and embroidered jackets can be worn with this to make them look more attractive.
In addition, in combination with skirts, they create an extraordinary outfit and can be worn to parties, trips, festivals and weddings. It's the perfect office outfit that's crazy and casual at the same time. They are available in various fabrics like cotton, silk, silk, viscose, polyester, crepe and georgette. The entire look of these beautiful long kurti designs can be enhanced with fascinating accessories like bags and jewellery.
SHIRT KURTIS
Another fusion of western and Indian culture which has grabbed everyone's attention is Shirt Kurti. As the name suggests, it's a fusion of a shirt and a kurti which might be worn in casual and formal functions. Sometimes it's worn as a dress too with no bottom wear. But generally, they're worn with all types of bottom wear like salwars, churidars, jeggings, leggings, jeans, palazzos. They create excellent office wear and leave a long-lasting impression at interviews too.
While the shirt Kurtis are mostly kept simple, they'll be accessorized with chokers, earrings, ear cuffs, watches etc. they are available in numerous fabrics like Denim, Rayon,Cotton, Georgette, Crepe, Viscose and Polyester. they're also available in various lengths, knee-length, ankle-length, or short, take a pick.
KAFTAN KURTIS
Kaftan kurtis are modern-day Kurti, which have become essential in women's wardrobe. Kaftan Kurtis is trendy and complex. Therefore they will be used on multiple occasions; however, they need a cool and casual vibe to that. The gorgeous summer wear is seen a lot at parties, events, occasions, outings, etc. they're often worn as a dress and at the same time will be paired with palazzo pants, salwars, churidars, leggings, jeggings, tights, etc. And in step with the occasion, you're wearing it for, you'll wear shoes, heels, flats, sneakers and more.
STYLISH KURTIS
Various stylish kurti are available within the market, which you'll be able to wear to style up your fashion sense. This kurtis are available in numerous styles like A-line Kurtis, Front-cut Kurtis, Peplum Kurtis, Layered Kurtis and so on. Wear any of those modern kurti patterns to induce a trendy look.
So, if you're a fashionholic lady who likes to style up your fashion sense beautifully, you need to pick any stylish kurti patterns.
For more fashion news, stay in touch with StyleinFlux