If you're reading this, you've probably searched for "shampoo for blonde hair" or "shampoo for brassy hair", as you might be sick of those orange/yellow/brassy tones showing up in your tresses every other day. Brassy tones are the worst nightmare of blondes, and keep occurring in your hair no matter what you do. Keep on scrolling to find out the reasons behind warm tones and how silver shampoo can solve the problem.
What is Silver Shampoo?
Silver shampoo, which often goes by the name of purple shampoo, is a hair cleaning aid specifically designed for the blonde hair category. It neutralizes unwanted brassy tones that keep on occurring in blonde, silver, or gray hair every now and then. This shampoo has a purple pigmented base, which acts against warm orange/yellow tones and eliminates them instantly.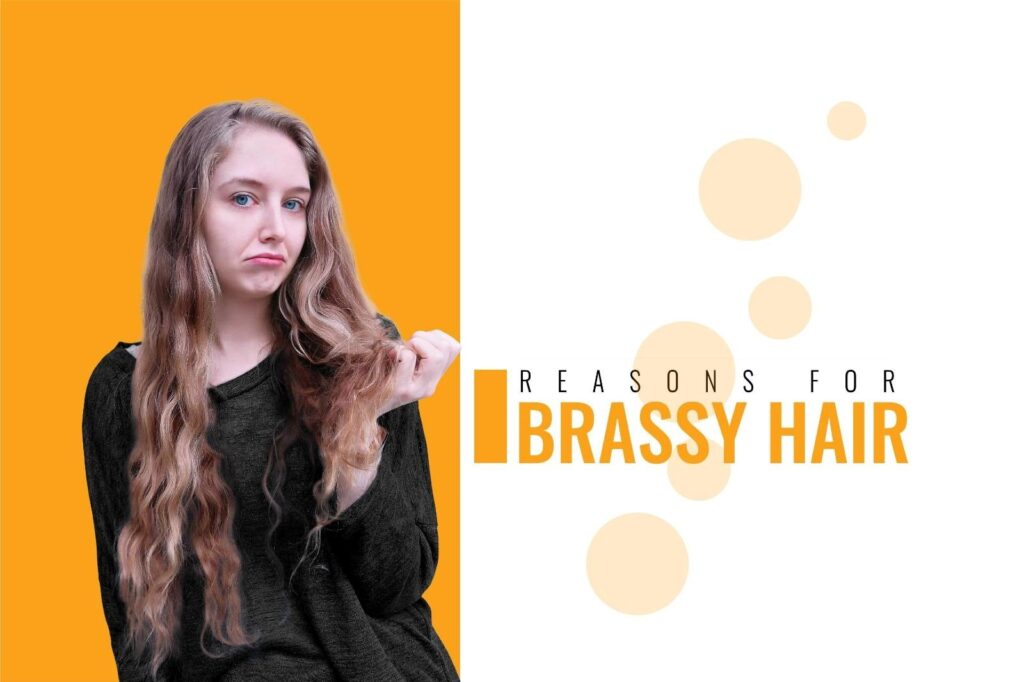 Causes of Brassy Hair



There can be many reasons for brassy hair. One thing to note is that brassy tones typically show up in light-colored hair, such as blonde, silver, gray, and platinum. The reason being, that naturally, blonde hair has a high porosity, suggesting that it has open hair cuticles. So, when it comes in contact with environmental impurities and pollution, it tends to absorb it all, which results in a dirty, unwanted shade of blonde. Dyed blonde hair, on the other hand, has a maintained shade due to the toner. As the toner wears off, warmer tones start showing up.
How Does Silver Shampoo Work?
The silver shampoo has a purple pigmented base, and for a good reason. If you have a look at the color spectrum wheel, you'll find out that purple is at the opposite end of yellow, suggesting that purple can neutralize yellow when mixed with it. Therefore, every hair product, be it a hair masque or a shampoo, has a purple pigmented base if it is designed to counteract brassy tones.
Can I Use Silver Shampoo Everyday?



Possible, but not advisable. Since silver shampoo has purple pigments, it is possible that using it every day can leave a purple tinge in your hair, which can mess with your blonde/platinum look. Therefore, it's best to use the silver shampoo once a week, and wash your hair with regular shampoo in between.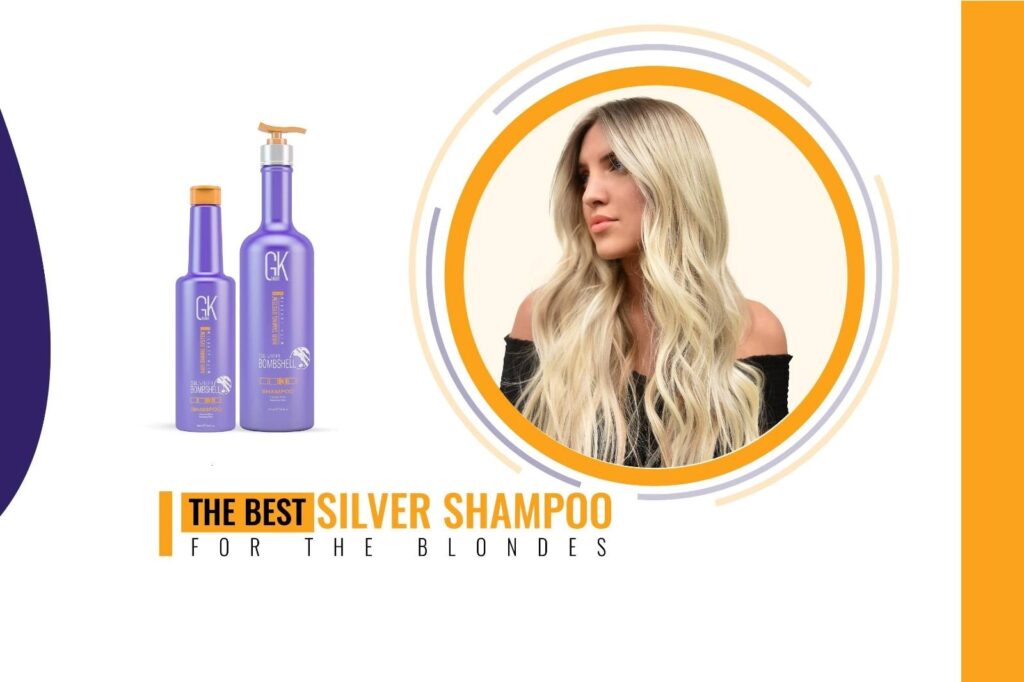 Where Can I Find Silver Shampoo?

You can find many silver shampoos in the market, but your goal is to find the best silver shampoo that doesn't rip your hair off. If you have dyed blonde hair achieved by bleach, chances are it's already damaged enough. You don't wanna use a shampoo stuffed with Sodium Laureth Sulfate (SLS) and parabens. Therefore, look for these pointers while choosing a shampoo for your blonde tresses:
Silver shampoo should be free of all kinds of harsh chemicals, including sulfates, parabens, and glutens.
The shampoo should have a thicker consistency with a good deep purple pigment.
The shampoo should be infused with natural, healthy ingredients that help in nourishing your hair.
Since color-treated hair needs extra caution, make sure your shampoo provides color protection and doesn't damage it further.
Guess what? GK Hair Silver Bombshell Shampoo checks all of the pointers. Its hydrating formula not only nourishes your blonde hair but also maintains its natural brilliance.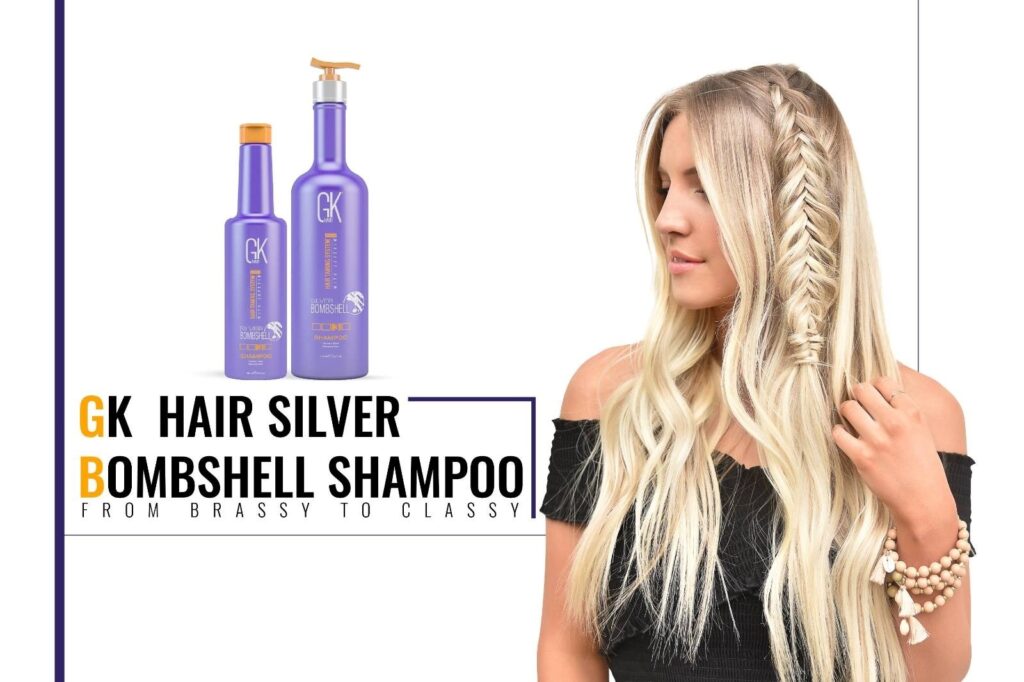 Benefits of Silver Bombshell Shampoo
Zero Brass
Well, that's what it is designed for. GK Hair Silver Bombshell Shampoo instantly neutralizes warm orange/yellow tones and maintains the desired shade of your hair. Its thick violet base acts within minutes and brings out the best in your hair.
Deep Hydration
Owing to its natural ingredients such as natural plant extracts and flower seed oils, GK Hair Silver Shampoo hydrates the hair from the inside out, retains the natural moisture, and keeps your color-treated hair adequately nourished.
Damage Repair
Silver Bombshell Shampoo contains the key ingredient of GK Hair called Juvexin. It is a non-hydrolyzed keratin anti-aging protein blend optimized to repair the hair shaft and rejuvenate its natural brilliance. When applied on hair, Juvexin does its wonders and rebuilds the hair shaft from the inside out, protecting it from further damage.
Sulfate-Free Formula
GK Hair Silver Shampoo is infused with all-natural ingredients and is free of all kinds of harsh chemicals, including sulfates, parabens, gluten, phthalates, DEA, and TEA. A safe and healthy formulation is ensured with the promise of delivering healthy, nourished hair.
How To Use?



GK Hair Silver Shampoo follows a similar process to using a standard shampoo and doesn't need extra caution:
The first step is to wet your hair thoroughly; do not apply the shampoo directly to dry hair. The reason is, since many shampoos have 'aqua" as one of their main ingredients, applying the shampoo to wet hair enhances its properties and gives an improved result.
Massage the shampoo onto your hair, but don't forget to be gentle with your hair roots. Never massage your scalp with your fingernails; instead, use fingertips to gently cleanse your roots.
Keep on massaging for 2-3 minutes so that the pigment is well absorbed into brassy hair, and rinse the hair thoroughly until the water runs clear.
Move on to applying conditioner to your hair lengths. Gently work your way to the hair ends and ensure an even application.
Leave it on for a few minutes so that the hair absorbs the nourishing effects, and then rinse thoroughly.
Bonus Hacks To Maintain Blonde Tresses
– Limited Sun Exposure
It's no secret how damaging sun rays can be for your skin and hair. Frequent exposure to sun rays can cause dryness, color-fading, breakage, split-ends, hair discoloration, and premature aging. Hence, keep your blonde tresses from sun exposure to avoid brassiness and warm undertones.
– Careful With The Water
Chlorinated water can damage your hair by making it dry and brittle. This causes hair color to bleed out and brassy tones to sweep in. Therefore, use a pool cap if you've plans for a good swim. Also, invest in a shower filter to avoid hard water and consequent hair damage.
– Deep Conditioner
Blonde hair looks incredibly vibrant when it's nourished and moisturized. Add GK Hair Deep Conditioner into your blonde hair care routine for an instant dose of moisture. This will keep your hair from drying out, and improve its overall appearance.
And there you have it; a detailed guide on Silver Shampoo and how it works. Visit www.gkhair.com and have a look at our Bombshell haircare range particularly designed for blonde hair types.