Casual outing with BFF? Vacation with family? Romantic date with beau? Formal event or cocktail party? One style that fits all these occasions – the "oh-so-outstanding" one-shoulder outfits!
You heard us right! The asymmetrical or one-shoulder dresses are all the rage. From runways and red carpets to streets, they are having a big moment in the fashion world. Adoring the *one* can help you show off a touch of skin fashionably.
The secret to pulling off this avant-garde trend is in the styling – and how you make this classy piece your own. So, if you are all up for revamping your style statement to OTT, we're here to help.
Check out our favorite style tips on how to wear a one-shoulder dress and make a statement!
1.    The Perfect Jewelry
One-shoulder style is a statement in itself. Given that, you don't have to go for a necklace, as it may otherwise interfere with the beautiful neckline.
Focus on the rest of the accessories and opt for one statement piece at a time. Oversized earrings, such as hoops, danglers, and abstract styles, are the best, especially if you plan on an up-do hairstyle.
You can also choose to put on rings and bracelets with your one-shoulder gown or dress, but make sure not to go too overboard.
2.    Be Careful Of What You Wear Underneath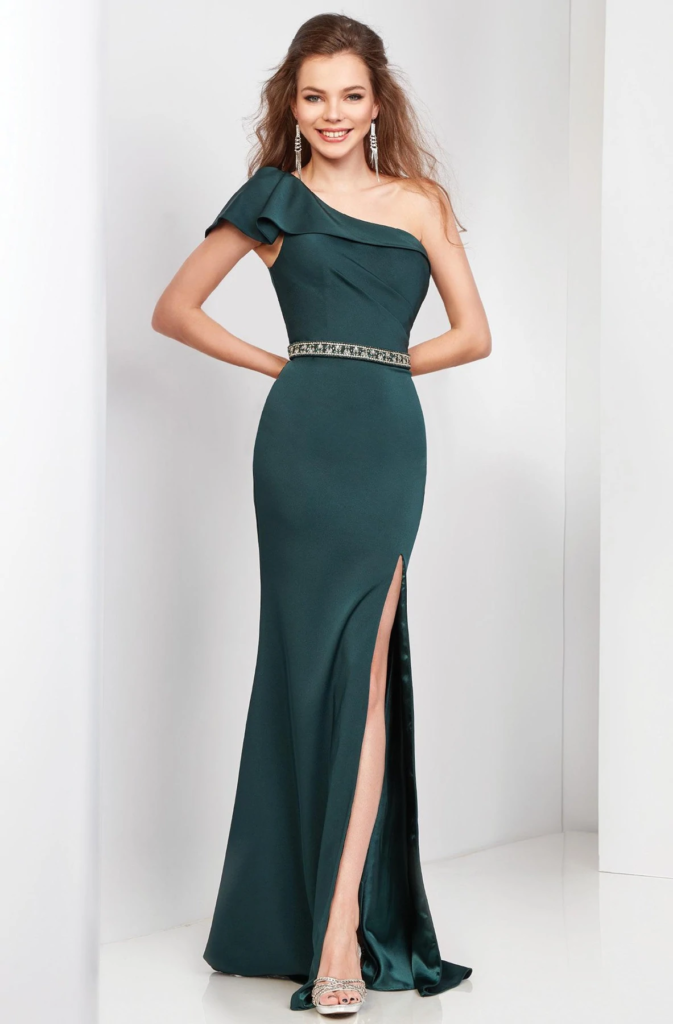 Your lingerie can make or break your look, so choose sensibly.
With a one-shoulder formal dress, seize on a strapless or stick-on bra underneath. A bra step visible on this partially revealing neckline can kill the look. What's more? You can also look for breast lift tape or nipple covers if your concern is not to support your bust and only to protect modesty.
Also, be mindful of your panty lines. If your one-shoulder outfit is body-hugging or light in the shade, you should pick a nude undie or shapewear.
3.    The Monochrome Look Is Mesmerizing!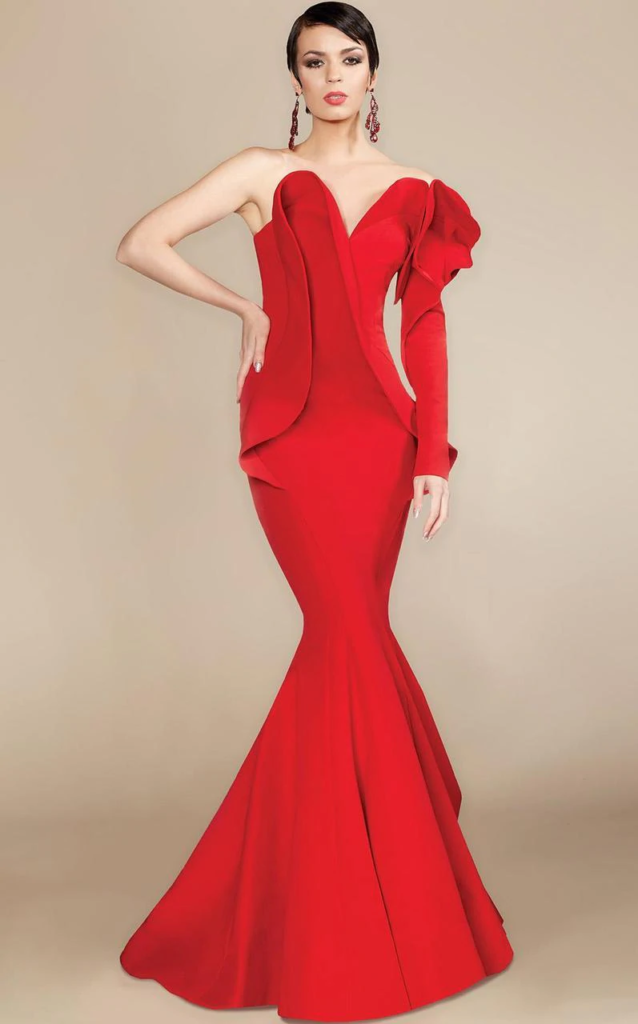 Do you feel shy about this trend? Maybe because you have never worn it in a monochrome way.
That's spot on! Wearing a simple, solid long, or short one-shoulder dress (with or without accessories) is the key to standing out from the crowd. Peep into this sweetheart fit one-shoulder long mermaid dress by MNM Couture for the proof.
Choose the *one* in the bold color to strike a hot pose.
4.    Think Of The Right Hairstyle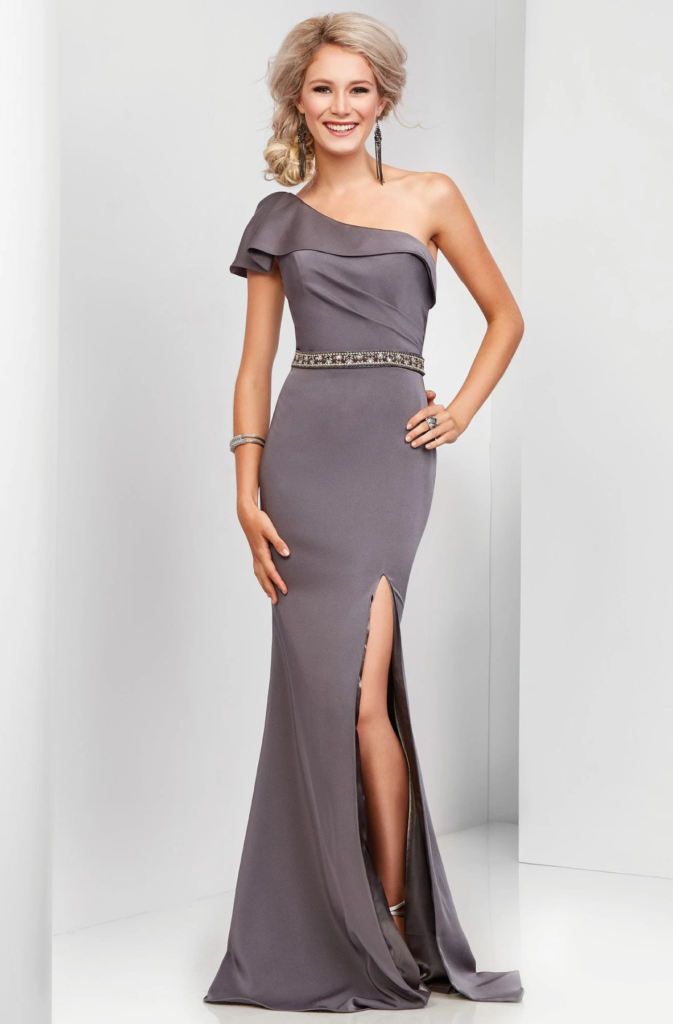 When we are talking about styling one shoulder party dress, we're also counting on the hairstyle – it's just as important as dress style and accessories.
In this case, we suggest you steer clear of open hair, straight or curly. Instead, try an updo style as you wish to shine out from the crowd while carrying your one-shoulder outfit like a pro. Choose a tight twist or ponytail for an elegant and sophisticated look, especially for a formal occasion like prom. You can also go for a soft messy bun for a chic, casual look.
If you are all heart at keeping your hair down, make sure to sweep them aside. You'd want to expose the one-shoulder look, after all!
Get creative with hair as much as you can; a one-shoulder dress is a rare opportunity to flaunt your décolletage.
5.    Say No To Layers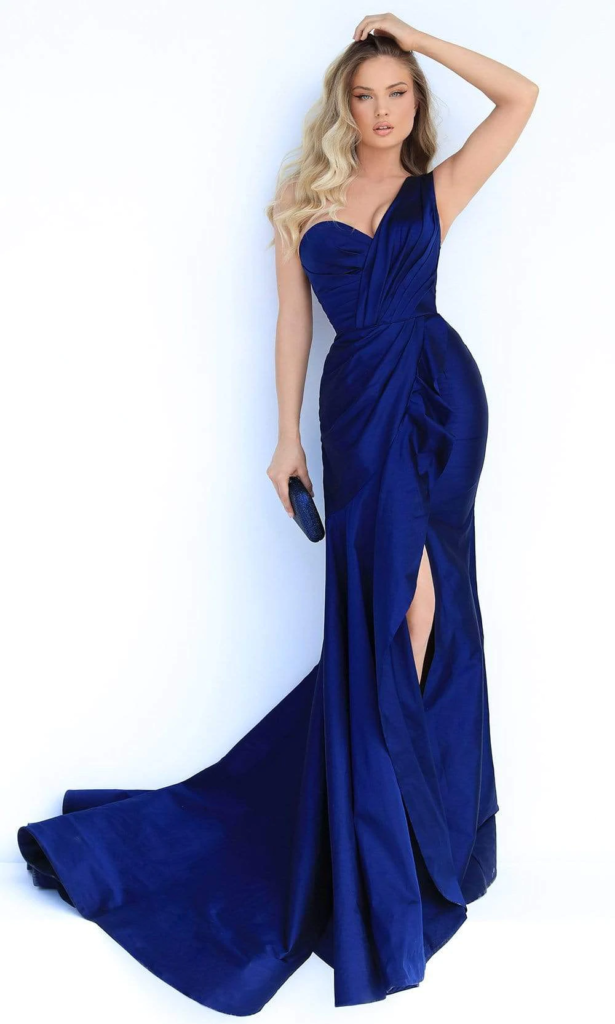 Whether it's a casual outing or a gala prom night, the whole point of wearing a one-shoulder attire is to show off your stunning shoulders. If you end up layering your one-shoulder prom dress with a blazer or jacket, you'll lose the dramatic effect of the neckline.
These dresses are particularly suitable for warmer seasons. So, make the most out of the striking trend this spring/summer season and take your fashion game to the next level.
Takeaway: Choose One Shoulder Dress for an Outstanding Look
One-shoulder or asymmetrical dresses are on the top of the fashion chart in 2022. And, as you see, the style is the best meant for daring women who are all heart at creating an outstanding look and setting new trends.
If you are already fascinated to add a stylish twist to your look, lose no time and get your hands on the exclusive one-shoulder dress from the best fashion store. With the right stylin' tips and tricks, you can pull off the trend like an ultimate diva and be the showstopper of every occasion.
Get It, Flaunt It!