Pumpkins were once used as decoration during the fall season, but now they can be seen in almost every clothing store. With so many different colors and designs to choose from, it can be hard to know which style is right for you. Here are a few of the most popular pumpkin clothing styles you should try this year. These pieces will add a touch of autumn to your wardrobe and help you stand out from the rest. So, without further ado, let's get started!
Pink Pumpkin Lantern Round Neck Sweatshirt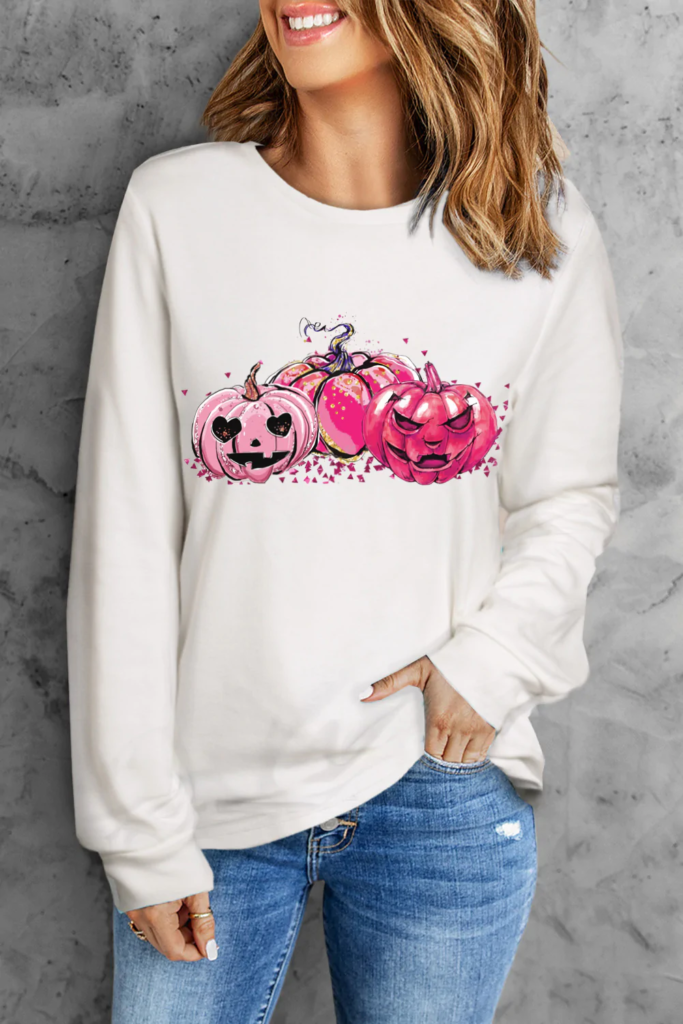 Fall is the time of year when the leaves start to change color, and the weather becomes cooler. Pumpkins are one of the most popular symbols of the season, and they can be found in all sorts of places, from front porch displays to jack-o-lanterns. 
Pink pumpkin lantern round neck sweatshirts are fun and festive to show your love for all things fall. The sweatshirts are soft and comfortable and feature a print of a pink pumpkin surrounded by leaves. 
They're perfect for wearing on chilly autumn days and make a great gift for anyone who loves the fall season. So if you're looking for a unique way to celebrate the autumn months, consider getting a pink pumpkin lantern round neck sweatshirt. Visit our website to shop these amazing pumpkin shirts.
Leopard Plaid Shiny Pumpkin Sweatshirt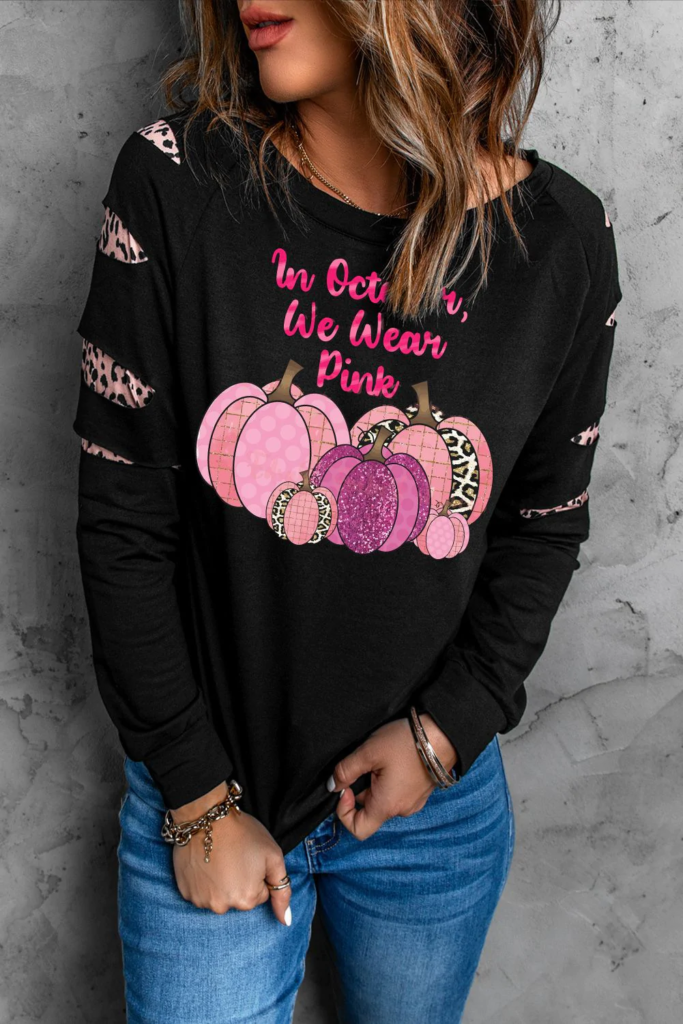 The Leopard Plaid Shiny Pumpkin Sweatshirt is a must-have for any fall wardrobe. This eye-catching top is made from a soft, lightweight fabric that is perfect for layering. The leopard print design adds a touch of fun and whimsy, while the pumpkin embroidery lends a festive touch. 
The sweatshirt also features long sleeves, a crew neckline, and ribbed trim at the hem and cuffs. Whether you pair it with jeans and sneakers for a casual look or dress it up with black pants and heels, this sweatshirt is sure to turn heads. So don't wait any longer; add the Leopard Plaid Shiny Pumpkin Sweatshirt to your cart today!
Fall Pumpkin Patches Distressed Denim Jeans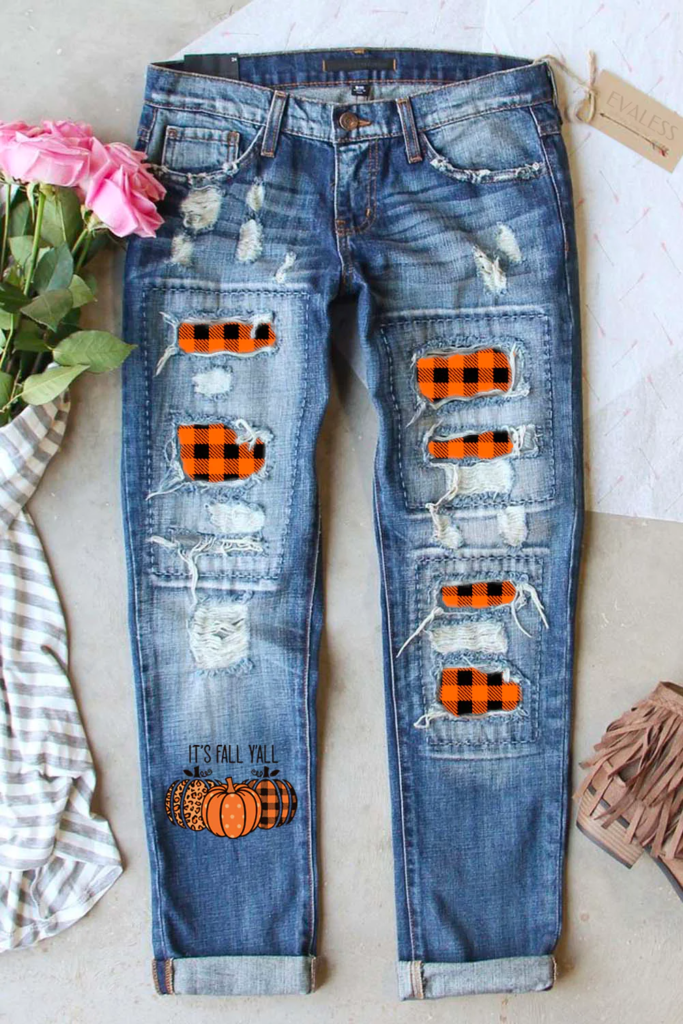 Pumpkin print plaid patches distressed denim jeans are the perfect way to add a touch of Autumn to your wardrobe. The pumpkin print fabric is patchwork quilted and distressed for a vintage look, while the plaid adds a touch of country charm. 
The jeans also feature ripped knees and a skinny fit for a trendy look. Whether you're looking for a Halloween costume or want to show your love of all things pumpkin, these pants are sure to do the trick. 
Orange Pumpkin Print Plain Sweatshirt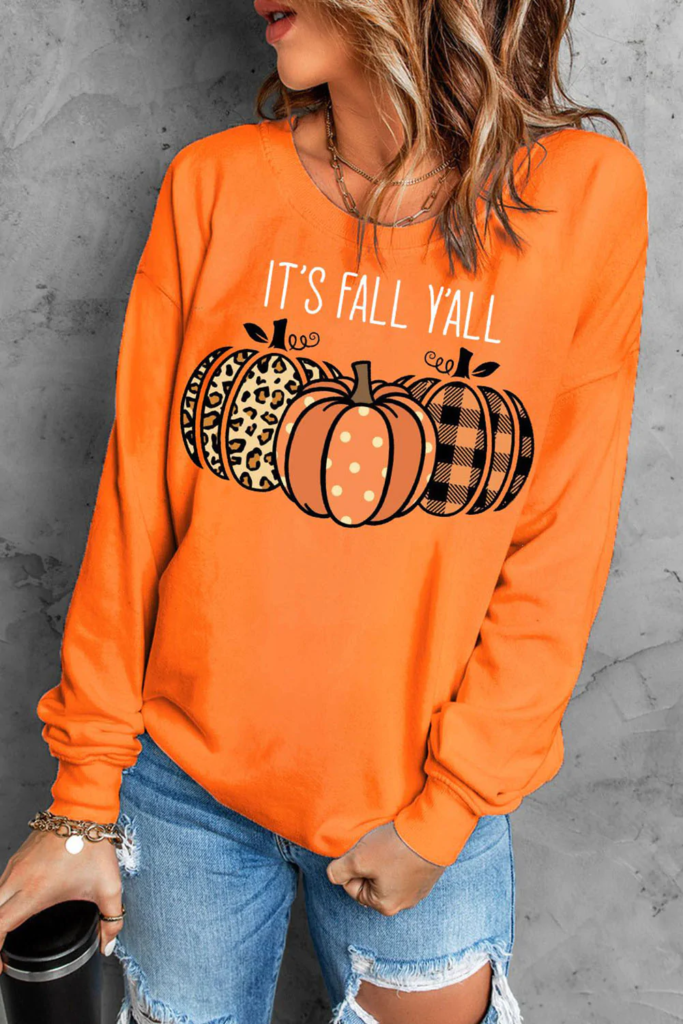 The Orange Pumpkin Print Plain Crew Neck Sweatshirt is a must-have for any fall wardrobe. Soft, lightweight fabric is perfect for layering during the colder months. The bold orange color is perfect for Halloween, but the simple print keeps it from looking too juvenile. And the best part? The sweatshirt is machine-washable, so you can keep it looking fresh all season long. So don't wait any longer; grab an Orange Pumpkin Print Plain Crew Neck Sweatshirt and enjoy the comfort of fall.
Light Blue Pumpkin Bone Claws Print Distressed Denim Shorts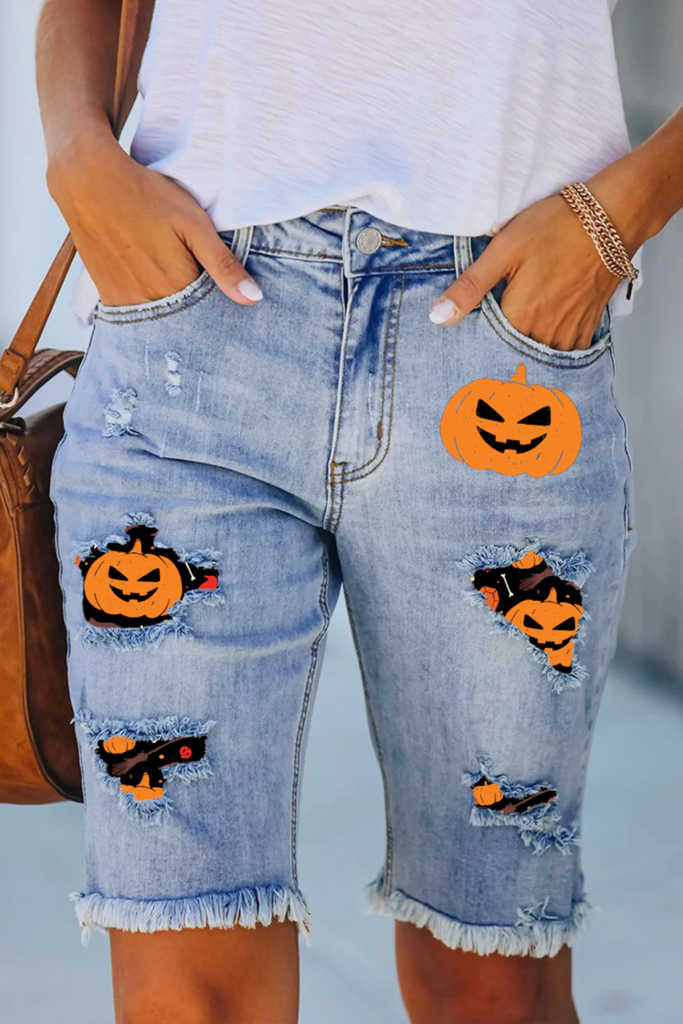 If you are looking for a new pair of stylish and comfortable shorts, you should try a pair of light blue pumpkin bone claws print distressed denim Bermuda shorts. These shorts are made from a soft denim material that is stretchy and comfortable to wear. They have a high waist and a relaxed fit through the hips and thighs. 
The light blue color is perfect for summer, and the print of the pumpkin bone claws adds a fun and playful touch. They look great with a tank top and sandals for a casual daytime look or with a blouse and heels for a night out.
ORANGE EVIL JACK-O-LANTERN GRAPHIC V-NECK LOOSE T-SHIRT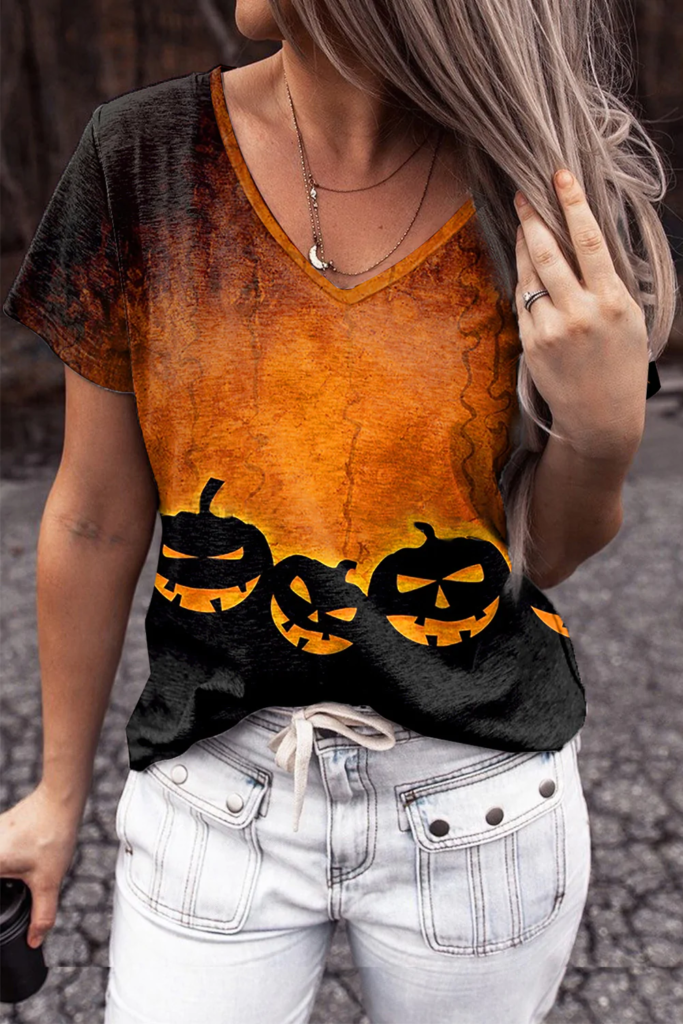 The ORANGE EVIL JACK-O-LANTERN T-SHIRT is made of high-quality materials that are comfortable to wear. This shirt is perfect for autumn days or for Halloween celebrations. The graphic on the shirt is very eye-catching and will definitely get you noticed. 
The loose fit of the shirt is also great for people who want to show off their Halloween spirit without feeling too constricted. Whether you're looking for a festive shirt to wear to your office Halloween party or just want a cozy one to wear while you hand out candy to trick-or-treaters, this women's pumpkin shirt is a great choice.
To get more and the latest fashion news, stay in touch with StyleinFlux.