Mouthguards are an important part of dental care. They protect your smile from injuries while playing sports, participating in activities, or even during everyday life.
If you don't wear a mouthguard when you need one, you could end up with a chipped tooth, broken jaw, or other serious injuries. In this blog post, we will discuss the importance of mouthguards and how to choose the right one for you.
The importance of a mouthguard
A mouthguard is an important piece of safety equipment for anyone who plays contact sports. Mouthguards help to protect the teeth, tongue, and lips from injury.
They also help to reduce the risk of concussions by absorbing impact and dissipating energy. While mouthguards are not required by all sports leagues, they are strongly recommended for athletes of all ages.
In addition to providing protection from dental injuries, mouthguards can also help to prevent TMJ disorders and other jaw problems. For athletes who want the best possible protection, custom-made mouthguards offer the perfect fit and the most comfortable wear.
Whether you are a casual athlete or a competitive player, a mouthguard is an important investment in your safety.
How to choose the right mouthguard for you
When it comes to protecting your teeth, a mouthguard is an essential piece of equipment. However, with so many different types and styles of mouthguards on the market, it can be difficult to know which one is right for you. Here are a few things to keep in mind when choosing a mouthguard:
Consider the type of activity
First, consider the type of activity you will be using it for. If you are an athlete who participates in contact sports, you will need a mouthguard that is designed to withstand impact. On the other hand, if you simply want to protect your teeth from grinding at night, a less durable mouthguard will suffice.
Next, think about the fit. A good mouthguard should be comfortable to wear and should not press too tightly against your teeth. It should also stay in place while you are wearing it and not slip around in your mouth.
Take the pricing into account
Finally, consider the price. Mouthguards can range in price from a few dollars to over one hundred dollars. It is important to find one that fits your budget but also provides the level of protection that you need.
By keeping these factors in mind, you can be sure to find the right mouthguard for you.
Types of mouthguards
A mouthguard is a specially designed piece of equipment that helps to protect the teeth and gums from injury. There are three main types of mouthguards:
Stock
Boil-and-Bite
Custom-fit
Stock mouthguards are the least expensive and can be bought off the shelf at most sporting goods stores. However, they are also the least comfortable and offer the least protection.
Boil-and-bite mouthguards are made from a soft material that can be molded to fit the teeth after being heated in water. They are more comfortable than stock mouthguards and provide better protection, but they can still be bulky and difficult to wear.
Custom-fit mouthguards are made from a dental impression of the teeth and provide the best fit and highest level of protection. However, they are also the most expensive option.
Regardless of which type of mouthguard is used, it is important to make sure that it fits properly in order to provide the maximum level of protection.
How to wear a mouthguard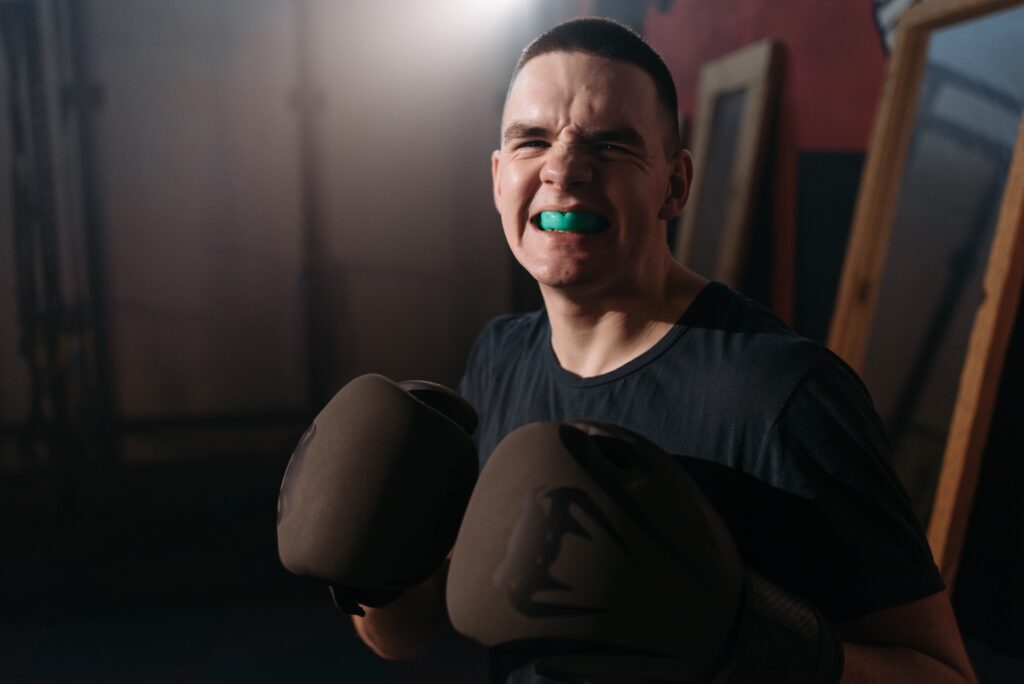 Mouthguards are an important piece of safety equipment for many sports, but they can also be tricky to get used to wearing. Here are a few tips to help you get the most out of your mouthguard.
First, make sure that the mouthguard fits properly. It should be snug but not too tight, and it should cover all of your teeth. If it doesn't fit right, it won't do its job properly.
Second, get used to wearing the mouthguard during practice sessions before you use it in a game. This way, you'll be less likely to accidentally spit it out during a heated moment.
Finally, don't forget to clean your mouthguard after every use. Just like any other piece of sports equipment, it can quickly become covered in germs and bacteria.
By taking these simple steps, you can help ensure that your mouthguard provides the protection it is designed for.
Cleaning and storing your mouthguard
Anyone who plays a contact sport knows the importance of wearing a mouthguard. Mouthguards help to protect your teeth and gums from impact, reducing the risk of damage and injuries.
However, it's important to clean your mouthguard on a regular basis, since it can be a breeding ground for bacteria. The best way to clean your mouthguard is to brush it with soap and water after each use.
You should also rinse it with mouthwash or soak it in a denture-cleaning solution. In addition, you should store your mouthguard in a cool, dry place when you're not using it.
By taking proper care of your mouthguard, you can help to extend its life and ensure that it continues to provide effective protection.
Common problems with mouthguards and how to solve them
Anyone who has ever worn a mouthguard knows that they can be uncomfortable and inconvenient. They can make it difficult to breathe and talk, and often end up getting lost or misplaced.
However, mouthguards are an important piece of safety equipment, and there are ways to minimize the inconveniences they cause.
For example, many mouthguards come with a case that can be used to keep them clean and safe when they're not being worn. Additionally, it's important to take the time to find a mouthguard that fits well.
A poorly fitting mouthguard can be just as uncomfortable as not wearing one at all.
By taking these simple steps outlined by the Coquitlam Dentists at Altitude Dental, you can make sure that your mouthguard is comfortable and effective.